Month #1: My summary of the first month
The first month of my 4 projects in 4 months has come to an end. Let's talk about what I accomplished, what I learned, before concluding.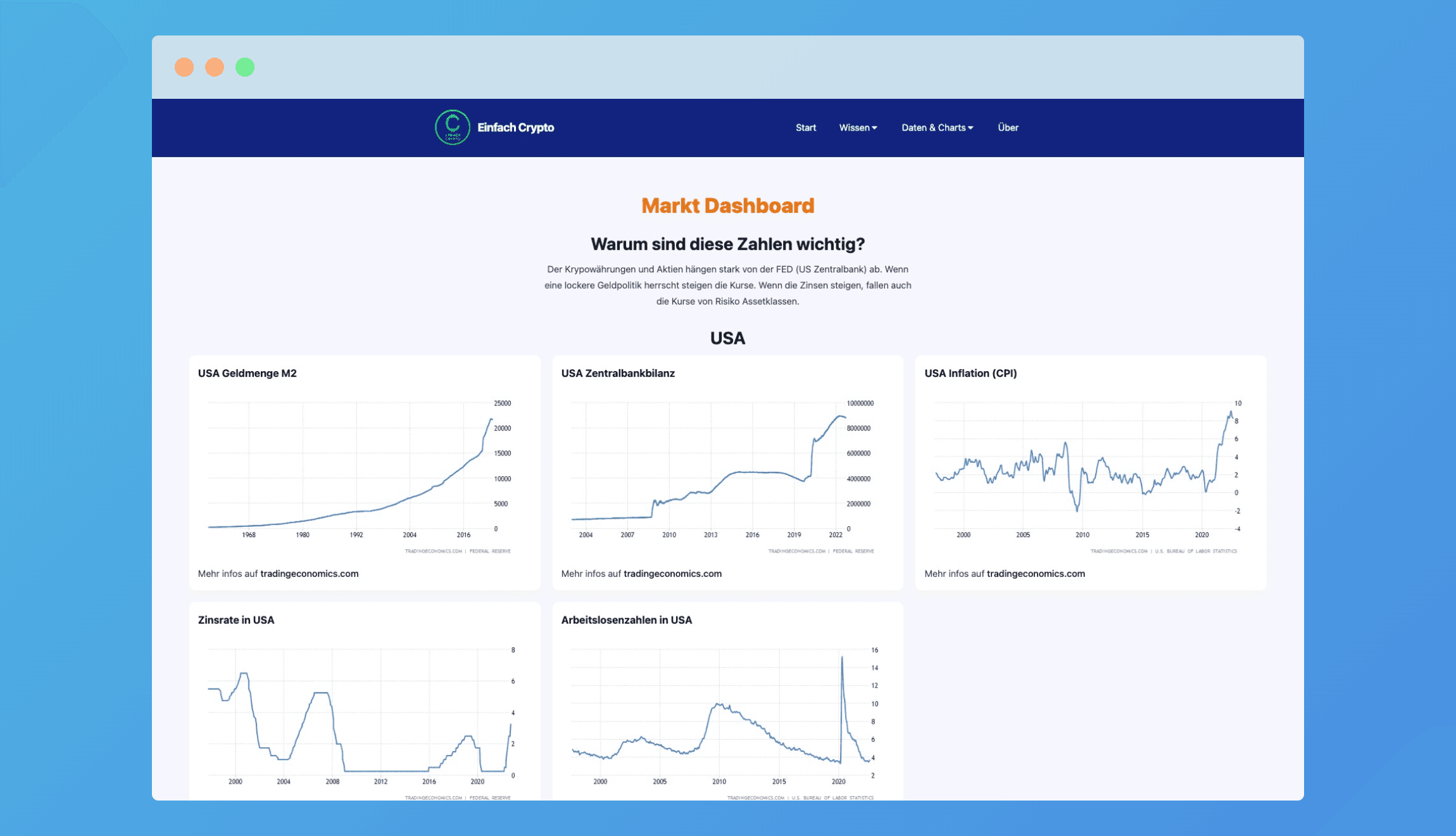 Screenshot of Market Dashboard
What did I achieve this month?
1. A Beginner's Guide to Bitcoin
2. Crypto calendar
I compiled a list of crypto-related events and added them to a notions page.
I made a page where I display these events by month.
You can suggest a new event by using my tally form, which adds the data directly to my notions database. All I have to do now is accept it ✅.
3. Market Research
Economic data such as the inflation rate, money supply, unemployment rate, and CPI rate are displayed on the market dashboard.
I wrote a background job that imports data from CoinGecko into my database.
Display all coins in a table where you can customize the columns for easier comparison.
Each coin has a details page (for example, Ethereum) where you can find all links and additional information. This page can be extended with further useful information in the future.
4. General improvements to the site
I added a nice list of services to the start page. The same list is reused on other pages like this one.
Ask for cookie consent and data privacy. Do not display Google Trends charts without permission.
My social link page has been updated.
A lot of code improvements have been made under the hood. For example, improved build speed and automatic dependency updates via GitHub actions.
What did I learn?
GatsbyJS: I improved my knowledge of GatsbyJS.

One lesson here is that Gatsby requires more effort than expected for simple tasks like adding a sitemap. Although there is a nice plugin system, these plugins require more configuration than expected because each content type must be defined.
Furthermore, the local build time is quite long because all content data is fetched.

SEO: In terms of on-page optimizations, I improved my SEO knowledge.

As I noticed warnings in Google Search Console, I improved the link structure. The lesson here was that Gatsby adds a trailing slash (../slug/) with a redirect, and I used links that did not have a slash (../slug), resulting in these redirects.
I learned how to configure Netlify to add redirects for unavailable pages
I used Screaming Frog to analyze my website and improve some headings.

Supabase: I improved my understanding of Supabase by using it as my coin data database. For my tables, I enabled RLS and experimented with the realtime feature.
No-Code: I use n8n for background tasks such as coin price updates. This is where I improved my workflow.
Cloud functions I learned how to use Netlify's cloud function to consume up-to-date data from Supabase.
Contentful: How to display rich text on a GatsbyJS page. I thought it would be simpler, but you'll have to create your own rich text render.
Tailwind: I practiced using Tailwind and discovered how dark mode works. (Not yet enabled)
Social media: I used Twitter more than usual and used the hashtag #buildInPublic. As a result, I now have 10 new followers 🎉.
Data privacy: Integrating widgets from external websites is difficult due to data privacy concerns.
Summary: Is this month a success?
Yes, I would say. During this month, I shipped a lot of features for einfachcrypto.de and improved my skill set. I now have a foundation for comparing projects and improving my research. One thing that is missing is user feedback. I will do this by talking to friends or people who DM me on Instagram.
PS: You can follow my daily progress on Twitter.